Julie's Blog
In August 2018, a 15-year-old girl sat alone outside the Swedish Parliament every Friday in protest of their inaction to tackle global warming. Today Greta Thunberg is a household name, and has delivered a powerful speech to the UN; and millions of people around the world have carried out peaceful protests demanding action.
97% of climate change scientists agree that human activity is causing global warming and unless measures are taken over the next decade, the damage will be irreversible. The effects of climate change include: a threat to biodiversity, rising sea levels, changes to weather systems leading to crop failure.
What should our response as Christians be?
The Genesis story tells us that God made the world and saw that it was good; and He created humans to take care of it.
The call to love our neighbour means that we should care about the loss of community and livelihood of the poorest in our world and seek justice for them. We also have a responsibility to future generations who will have to live with the consequences of our actions.
Climate change feels like an insurmountable problem, but Greta's example shows that the actions of one person can have a wide-reaching effect. Over the past few years, many of us have made changes such as recycling and taking bags with us to the shops. But is there more you could do?
At college recently, we thought and prayed about this issue and were challenged to commit to one more change – and to tell two people about it. Stuart and I have decided to reduce our meat consumption as it has a positive effect on the environment. After reading this you might consider if there's a further change you could make and together, we can demonstrate our love for the world and its Creator.
Julie
News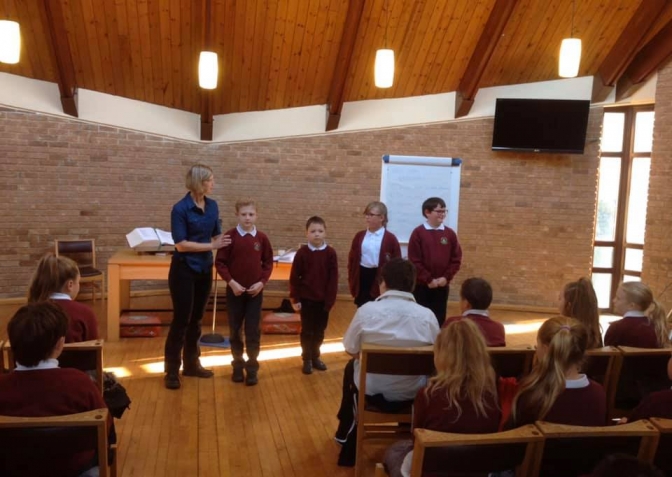 Children from class 6 at the Church School visited BBC recently. Mel knew that they were studying believer's baptism and offered to arrange a visit.
Julie talked to the children and a good time was had by all! There has been very positive feedback from children and teachers.
News from our link Missionaries: -
We have recently received a an email from Louise and Phil Proctor
Good Morning
We have just heard the good news that you have become our new church partner. How exciting! Hopefully you have already received some information about us, and possibly our latest newsletters too. We are really sorry that there seems to have been a delay in you taking us as partners, and us receiving the news, so I apologise that it has taken so long for us to introduce ourselves. I would like to say that I pride myself in keeping in contact with our partners, and try to be in touch at least monthly, so I hope from here on in we can succeed in that.
We have lived in Dhaka, Bangladesh for almost 4 years now. Our roles have changed since we first came, and we have been through many adventures, and challenges over this time.
We now work with BMS partners in Bangladesh - SHED Board. Phil is Capacity Building and Resources Management consultant, and Louise is an Education Consultant. This has kept us both busy since January 2018 when Louise began, and more so since April 2018 when Phil also joined.
On a family level, we have 4 grown-up children Daniel (Danny) is 30 and lives in the Manchester area, working as a self-employed graphic designer. Nicola (Nikki) is 27 and lives in Cumbria with her fiancé Mitchell, they had their first baby on Valentines Day this year, our beautiful granddaughter Rosie. Oliver is 25 and lives in Edinburgh with his girlfriend Amy. He is working as a general manager in a restaurant/cafe in an office building, where he is receiving management training and thoroughly enjoying it. Amelia is 22 and lives in Swindon. She is about to graduate from Moorlands Bible College with a BA (HONS) in Theology with Youth and Community Work. After October half term she will begin working as a support for learning assistant in an
autism unit in a secondary school. Our oldest three are not yet believers, but Amelia most definitely is!
Our 'home' is Dumfries, with Dumfries Baptist Church being our sending church. We have lived in Scotland for many years, but are both English by birth - Phil from the north-west and Louise from the East Midlands.
We really feel that Bangladesh is where God wants us at this time, and despite the difficulties and frustrations of living there, we do love it. Sometimes it is difficult to explain what we love, or why we love it because at face value there is not much about Dhaka to love! We have travelled around quite a lot over the past 18 months, getting to visit various projects.
We think we are quite good at keeping in touch! We write our regular updates for BMS, including a blog. We also write a newsletter for our non-believing friends every couple of months. We would be delighted to add you to that list too. We try to vary the content. The other thing we do regularly is write an article for the Dumfries BC newsletter (issued every 2 months). We would also be happy to send you a copy of this article. We are also active on Facebook, and would be happy to add people from West Craven Baptist Fellowship if they request it (letting us know that that is where they are from).
I hope this gives a brief introduction to us, and we look forward to getting to know you better over the coming months and years.
Many Blessings
Louise & Phil Proctor