Worship Services in December 2019 and January 2020
1st December Mount Zion Earby Revd Richard Lewis
8th December Barnoldswick Baptist Church Revd Andy Sellars
15th December Salterforth Village Hall John
22nd December 2.00 p.m. at Barnoldswick Baptist Church Margaret
29th December Salterforth Village Hall Robin
5th January Barnoldswick Baptist Church Julie
12th January Mount Zion Earby Revd Richard Lewis
19th January St Patrick's Earby
26th January Barnoldswick Baptist Church Keith Jones
Activities in Dececmber 2019 and January 2020
Sun 1st December Church Meeting after morning worship
Sun 1st December Advent Hope Christian Aid Carol Service at 6.00 p.m. Barnoldswick Baptist Church
Tue 3rd December Afternoon Home Group with an Advent theme at 2.30 p.m. Joyce's home
Wed 4th December Deacons' meeting 7.45 p.m. Barnoldswick Baptist Church
Thu 12th December 4Cs 2.00 p.m. Barnoldswick Baptist Church
Thu 12th December Angel Distribution 6.00 p.m. from Barnoldswick Baptist Church
Sat 14th December Journey of the Maji 6.30 p.m. St Joseph's Community Centre
Sat 21st December Carols on the Square 10.30 a.m. Barnoldswick Town Square
Tue 24th December Crib Service 5.00 p.m Mount Zion Earby
Wed 25th December Christmas Day Service 9.30 a.m. Barnoldswick Baptist Church
JANUARY
Thu 9th January Earby Churches Together Social 6.30 p.m. New Road Community Centre
Tue 14th January Christian Aid Group 7.30pm Barnoldswick Baptist Church
Wed 22nd January Holiday Special Planning Meeting 2.00 p.m. St Andrew's
Thu 23rd January 4Cs 2.00 p.m. Mount Zion Earby
Fri 24th January Open the Book Training 9.00 a.m. – 3.00 p.m. Barnoldswick Baptist Church
Christmas Highlights
£4.00 for adults and £2.00 for children The ticket money will cover all the other and any profit will go to Macmillan Cancer Care.
Hope Barlick Angels - KNITTING ?
Volunteers will be needed to help distribute angels on Thursday 12th December.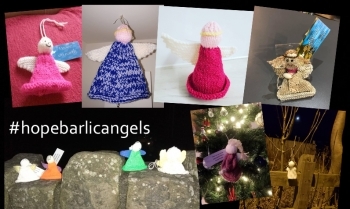 If you've been knitting angels for the Hope Barlick project, they need to be handed in as soon as possible, please. They can be dropped off at the Civic Hall in Barlick or at any church in West Craven.